Irish-born Ciara Ward came to Canada in 2022 looking for an adventure and found it at CONNECT Partners.
Ciara, who is moving back to Ireland next week to be close to family again and regrouping for a backpacking adventure in six months or so, was celebrated during her last day at CONNECT Partners on Wednesday.
A few tears were shed and many hugs exchanged as her colleagues surrounded Ciara (lovingly referred to as Shakira) telling her how much she will be missed.
"I was a nurse back in Ireland and had about three years of experience in a hospital setting, including during COVID. I was very burned out, questioning my decision to be in health care and ready for a change," she says.
"When I came to Canada and started as a Life Redesign Coach in November of 2022, I loved it so much. Even though I was working hard to support the people living at Cambie Gardens, it felt like I was just hanging out and laughing with them a lot. There was so much freedom to spend time and get to know people – to be part of their lives, not just moving from patient to patient like in a hospital."
"It was not an easy decision to leave and move home, but my sister recently had a baby and family is really important to me. I want to spend some time with them before my next adventure."
Having recently lost a family member she describes as a free spirit with a heart for adventure, Ciara is embracing her opportunity to explore the world without a solid plan in mind. She knows she wants to help people with disabilities in the future, but is open to wherever life takes her.
Ciara's time at CONNECT Partners was briefly interrupted when she tried her hand at a tech job, but she found her way back to rejoin the company in the role of a Personal Care and Support Coach, which has describes as the very best job.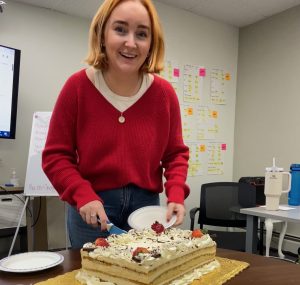 Her role involves teaching, as well as supporting people living in Cambie Gardens and her fellow coaches. She says the tole has a lot of flexibility, creativity and freedom with lots of support from her leaders.
When she reflects on her time at CONNECT Partners, Ciara says there are too many good memories to list, but says the summer barbecues in the park stand out.
"I remember I was rushing back and forth to get people from Cambie Gardens – both people living there and our coaches – to the park. I was sort of frantic trying to get everyone there and I finally just stopped and looked around and had a moment.
"Everyone was so relaxed and happy to be there.  I was able to stop and see the positive impact of the effort. I saw in that moment how it is all so worth it to make people happy."
For current and future coaches at CONNECT Partners, Ciara encourages them to focus on their purpose. When there is a tough moment with an individual or a bad day or a big challenge, focusing on the purpose makes it worthwhile.
"Also, I encourage people to applaud themselves for the mini wins that happen all the time that others might not witness. Just making a person we support smile when they're having a tough time is something you can celebrate.
"CONNECT Partners is doing such important work. The life these people are moving into at Cambie Gardens is such a stark improvement to their previous situation. That is the purpose right there. I wish CONNECT Partners could be in every country in the world doing this amazing work. I am pushing for one in Ireland."
If Ciara was to say one thing she learned at CONNECT Partners she will take with her into her future endeavours, she said it's the concept of supporting people where they're at.
"Meeting people where they're at, supporting them to have choice, helping them solve problems based on their preferences are all concepts I will take forward into my life. This job has changed the way I work indefinitely. I am so happy to have had this opportunity. Thank you CONNECT Partners. Thank you all of my amazing co-workers and people living at Cambie Gardens. I will never forget this experience."